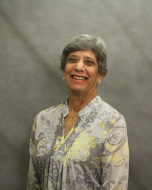 Meher Banajee, Ph.D.
Program Director - Speech-Language Pathology
mbanaj@lsuhsc.edu
EDUCATION

Doctor of Philosophy, Communication Disorders, LSU, Baton Rouge, LA. 2007
Master of Science, Speech-Language Pathology and Audiology, All India Institute of Speech and Hearing, Mysore, India 1977
Bachelor of Science, Speech-Language Pathology and Audiology, University of Bombay, India 1975

DEPARTMENTAL DUTIES

Associate Professor: Speech-Language Pathology
Clinical Practicum, Clinic Supervisor
Augmentative and Alternative Communication, Instructor
Infant Intervention, Instructor
Articulation and Phonology, Instructor
Research Methods, Instructor
Cleft Palate and Craniofacial Anomalies, Instructor
Voice and Related Disorders, Instructor
Special Population in Communication Disorders, Instructor

PREFERRED CLINICAL/RESEARCH ACTIVITY

Augmentative and alternative communication, early intervention, pediatric dysphagia, Autism spectrum disorder

PHILOSOPHY OF EDUCATION

To train students to become independent and competent professionals by applying and implementing book knowledge into everyday functional activities.
SCHOOL AND OTHER DUTIES
Coordinator Health and Clinic, HDC
Faculty mentor, LEND program
Faculty member, Collaborative grant, HDC
Chair, Diversity Committee
Faculty member, Grant and Research Committee