About Us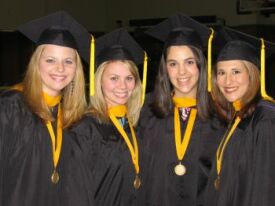 The Master of Health Sciences in Counseling (MHS) program is fully accredited by the Council for Accreditation of Counseling and Related Educational Programs (CACREP) and is a 60 credit hour graduate program, on campus instruction classroom environment, with a strong counseling focus. The program prepares counselors to assume the full range of professional responsibilities required in community counseling organizations, private as well as publicly funded and non-profit, and to contribute to scholarship and service locally and nationally. Courses are offered in person, on campus, during the day (9:00am and 1:00pm) primarily.
The MHS training model integrates behavioral science theory and knowledge with counseling skills. Our philosophy is that the most effective counselors have a strong understanding of the theoretical and scientific bases of the professional concepts and techniques they apply. Counseling is a process intended to facilitate the vocational and personal development of people with disabilities. The disability may be physical, emotional, mental, developmental or social. Within the counseling process, services are utilized to enable individuals with disabilities to make the fullest use of their potential in choosing, planning for, and attaining a satisfying and effective life. In a very real sense, counselors are concerned with maximizing the abilities of people with disabilities, while assisting them to cope constructively with their disabilities.
Counseling is unique in integrating a diverse range of treatment approaches and utilizing community resources to meet an individual's life needs. The process of counseling can include therapeutic counseling, intervention, prevention, psychological and vocational evaluation, vocational exploration and training, job development and placement, case management and follow-up.