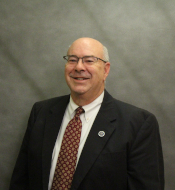 George Walter Hebert, Ph.D.
Assistant Professor
Human Development Center
School of Allied Health Professionals
LSU Health Sciences Center
1900 Gravier St
New Orleans, LA 70122
(504) 556-7566
gheber@lsuhsc.edu

GEORGE W. HEBERT, Ph.D. is a Clinical Assistant Professor in the Department of Counseling at the Louisiana State University Health Sciences Center – New Orleans (LSUHSC-NO) and also serves as a faculty member in the Physician Assistant's Program in the Department of Interdisciplinary Human Studies.  Previously, Dr. Hebert served nine years as the training coordinator/director for an APA accredited program in School Psychology at the LSU Health Sciences Center in the Human Development Center.  Additionally, he had served a total of eight years providing psychological services and directing an outpatient mental health clinic for children and adolescents in Louisiana.  He also served a total of six years as a school psychologist in both rural and urban settings in Louisiana.  Finally, Dr. Hebert had been a part-time faculty member in the psychology department at the University of New Orleans for many years.  
 
Currently, Dr. Hebert is a Licensed Psychologist through the Louisiana State Board of Examiners of Psychologists and holds certificates with the Louisiana State Department of Education as a school psychologist and supervisor of school psychological services.  He continues to specialize in school aged children and their families.  In the Child and Family Counseling Clinic, Dr. Hebert conducts psychological assessments for ADHD, specific learning disabilities, and general behavioral problems.  He is a former president of the Louisiana School Psychological Association (LSPA) and an active member of the National Association of School Psychologists (NASP) where he currently serves as the national delegate for the State of Louisiana.