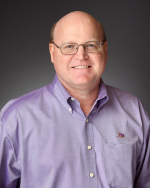 John B. Zamjahn, Ph.D., RRT, RPFT
Associate Professor of Clinical Cardiopulmonary Science
Program Director of Advanced Respiratory Therapy
jzamja@lsuhsc.edu

Educational Background:

Louisiana State University Health Sciences Center, 2004
Ph.D., Pathology
Louisiana State University Medical Center, 1995
M.H.S., Cardiopulmonary Science
Louisiana State University Medical Center, 1991
B.S., Cardiopulmonary Science


Primary Teaching Areas:

Advanced Cardiac Life Support
Adult Critical Care 
Cardiac Electrophysiology
Cardiopulmonary Pathophysiology
Geriatric Respiratory Care
Polysomnography
Pulmonary Diagnostic Tests
Pulmonary Rehabilitation


Research Interests:
Inter-professional education simulation-based training, debriefing
Pulmonary Sarcoidosis
CXC Chemokines and pulmonary neutrophil recruitment
Vascular wall proteoglycans and atherosclerosis

Publications:
Zamjahn, J.B., Carvalho R.B., Bronson, M.H., Garbee, D.D., & Paige, J.T. (2018) eAssessment: development of an electronic version of the Objective Structured Assessment of Debriefing tool to streamline evaluation of video recorded debriefings. J Am Med Inform Assoc, ocy113, https://doi.org/10.1093/jamia/ocy113.
Zamjahn, J.B., Beyer, E.O., Alig, K.L., Mercante, D.E., Carter, K.L., & Gunaldo, T.P. (2018). Increasing awareness of the roles, knowledge, and skills of respiratory therapists through an interprofessional education experience. Resp Care, 63(5):510-518.
Garbee, D.D., Paige, J.T., Barrier, K., Kozmenko, V., Kozmenko, L., Zamjahn, J.B., Bonanno, L., & Cefalu, J. (2013). Interprofessional teamwork among students in simulated codes: A quasi-experimental study. Nurs Educ Perspect, 34(5):339-344.
Zamjahn, J.B., Quinton, L.J., Mack, J.C., Frevert, C.W., Nelson, S., & Bagby, G.J. (2011). Differential flux of macrophage inflammatory protein-2 and cytokine-induced neutrophil chemoattractant from the lung after intrapulmonary delivery. Am J Physiol Lung Cell Mol Physiol, 301(4):L568-L574.
Professional Organizations:
American Association for Respiratory Care
American College of Chest Physicians
Coalition for Baccalaureate and Graduate Respiratory Therapy Education                                               
Louisiana Society for Respiratory Care