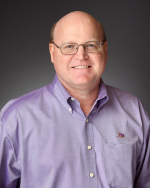 John B. Zamjahn, Ph.D., RRT, RPFT
Associate Professor of Clinical Cardiopulmonary Science
Program Director of Advanced Respiratory Therapy
jzamja@lsuhsc.edu

Educational Background:

Louisiana State University Health Sciences Center, 2004
Ph.D., Pathology
Louisiana State University Medical Center, 1995
M.H.S., Cardiopulmonary Science
Louisiana State University Medical Center, 1991
B.S., Cardiopulmonary Science


Primary Teaching Areas:

Advanced Cardiac Life Support
Adult Critical Care 
Cardiac Electrophysiology
Cardiopulmonary Pathophysiology
Geriatric Respiratory Care
Polysomnography
Pulmonary Diagnostic Tests
Pulmonary Rehabilitation


Research Interests:
Pulmonary Sarcoidosis
CXC Chemokines and pulmonary neutrophil recruitment
Vascular wall proteoglycans and atherosclerosis

Publications:
Garbee DD, Paige JT, Barrier K, Kozmenko V, Kozmenko L, Zamjahn JB, Bonanno L, and Cefalu J (2013). Interprofessional Teamwork Among Students in Simulated Codes: A Quasi-Experimental Study. Nurs Educ Perspect, 34(5) 339-44.
Zamjahn JB, Quinton LJ, Mack JC, Frevert CW, Nelson S, and Bagby GJ. (2011) Differential flux of macrophage inflammatory protein-2 and cytokine-induced neutrophil chemoattractant from the lung after intrapulmonary delivery. Am J Physiol Lung Cell Mol Physiol. 301(4): L568–L574.

Professional Organizations:
American Association for Respiratory Care
American College of Chest Physicians
Coalition for Baccalaureate and Graduate Respiratory Therapy Education                                               
Louisiana Society for Respiratory Care