Master of Physician Assistant Program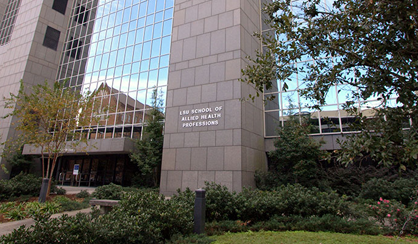 Prerequisites
The LSUHSC-NO Master of Physician Assistant Studies Program faculty and Admissions Committee, together with the Medical Director and the Dean, SAHP, has developed the following program Admission Requirements. The faculty as a whole, including the Medical Director and the Dean will review the Admissions Requirements and revise as needed to ensure program growth and development.
In addition to the Departmental prerequisites, the student MUST satisfy all institutional requirements in the current LSUHSC-NO Catalog.
Admission Requirements/ Prerequisites
Prior to matriculation, the applicant must have earned a baccalaureate degree from a regionally accredited United States college or university. Applicants must have a minimum OVERALL GPA of 3.0 on a 4.0 scale minimum AND an OVERALL SCIENCE GPA of 3.0 at the time of application.
Successfully complete the Graduate Record Exam (GRE). Exam results must not be older than 5 years. All applicants seeking admission to the LSUHSC-NO PA Program must register for and take the Graduate Record Examination General Test. The web site for the GRE General Test is www.gre.org. When filling out the application, you will be asked for an Institutional Code. The institutional code for LSUHSC-NO CASPA is 0202. Your official GRE scores must be sent directly to CASPA. Minimum GRE scores: The Program recommends applicants have a minimum score of 153 (old score 500) on the verbal and 144 (old score 500) on the quantitative, and 3.5 on the analytical writing components of the GRE General Test to be competitive with others in the overall applicants pool.  GRE Prep Guide.
Applicants must have completed the following required courses and have earned a grade of "C" or better in the following required subjects and have completed the required courses within the past ten years. ALL science courses must be for science majors. Survey courses are not accepted.
a. Biological Sciences - 8 hours of upper level coursework (3000+ level courses)
b. Microbiology or Bacteriology (with lab) 4 credits
c. Chemistry I and II (with labs) 8 credits
d. Anatomy (human or comparative with a lab, comparative preferred) 4 credits
e. Physiology (general, human or comparative with lab, comparative preferred) 4 credits
                    

Note:

Louisiana State University students:  Biol 2160 will meet this requirement.
                     A 3000 or 4000 level physiology course will meet this requirement.
f.  Statistics (with analysis of variance and/or multiple regression) 3 credits
g. Genetics 3 credits
h. Organic Chemistry or Biochemistry (with lab) 4 credits
i.  Behavioral Sciences 6 credits (Sociology or Psychology)
j.  College algebra or higher 3 credits
Applicants are urged to complete their elective coursework in areas of behavioral, physical or social sciences. After review of the applicant's records the Admissions Committee may require additional course work and testing as condition of acceptance.
Three letters of recommendation. Letters of recommendation must be sent through the CASPA portal only and must not be from family members. Letters of recommendation should come from doctors shadowed, current and/or former professors, current and/or former employers; and one must be from a PA.
A minimum of eighty (80) hours of documented healthcare experience is recommended.
Current CPR Certification. This certification must be maintained throughout matriculation if accepted.
All students are required to demonstrate proficiency of English when applying to LSUHSC-NO. (See LSUHSC-NO General Catalog).
Applicants who are considered potential applicants MUST visit LSUHSC-NO to participate in an on-campus interview. Invitation to interview does not imply acceptance to the program.
The applicant must be able to master the Technical Standards (see Technical Standards this website) prior to and throughout the entire program.
Accepted applicants will be required to pass a criminal history background check and a drug screening prior to enrolling in the program.
NO COURSES WILL BE WAIVED
Courses must be for science majors and must have a science prefix.